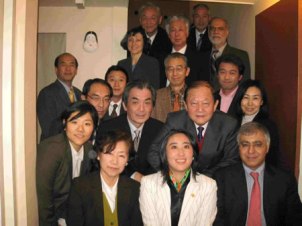 An evening with Iraq Diplomat (Sloan Alum)Report
This was a very special event for Sloan Alums in Japan. Never in the history of Sloan Society of Japan have we had such a special and interesting guest.
We hosted an elegant dinner event with the honorable presence of--
Fareed Yasseen, MOT '92 former head of policy planning in Iraq's Ministry of Foreign Affairs.
Dr. Yasseen shared his incredible experience and his views with us on this occasion. It was a sit-down dinner surrounding Dr. Yasseen with free and open dinner table discussions.
Date: February 1st, 2008, Friday Time:7:00pm-10:30pm
Place: Kameyoshi Address:1-6-13 Hiroo, Shibuya-Ku, Tokyo
Reporter--Maki Yoshida SM'94--